Desmond was born a healthy and very active child. When Desmond was one, his family started to notice that he was falling a lot and it was painful for him to sit. To his parents' disbelief, he soon became paralyzed from the waist down. They took him to his pediatrician and then to an area hospital to figure out the cause. After several visits, Desmond's parents brought him to Beaumont Children's, a CMN hospital in Royal Oak near Detroit. In September 2014, Desmond was diagnosed with a spinal cord tumor and doctors prepared his family for a cancer diagnosis. He was rushed into emergency surgery a day later to remove the olive-sized tumor.
After further testing, his tumor was determined to be benign, but he still faced the prognosis of having to completely learn to walk again. At two, Desmond started learning to crawl and began physical therapy. Throughout his recovery process, Desmond was required to wear leg casts to correct his joints, but the most impactful tool used in Desmond's recovery was Beaumont's state-of-the-art Lokomat machine. This machine combines a treadmill with weight support and an adjustable exoskeleton and has task-specific training or "games" included in every session. At two, Desmond was the youngest patient at Beaumont Children's to ever practice therapy on the Lokomat.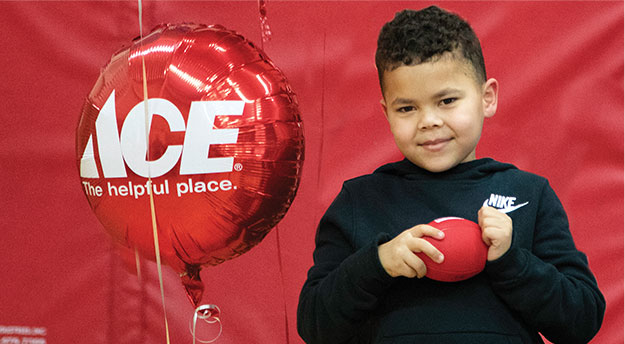 Thanks to the specialized treatment he received at Beaumont Children's, Desmond is a bright, giggly, happy child who remains active and plays basketball, football, and other sports every chance he gets. Now six, Desmond continues his physical therapy on the Lokomat machine and uses leg braces to walk.
"We are thrilled to welcome Desmond into the Ace All-Star family," said Kane Calamari, Senior Vice President, Chief Human Resources Officer and President of the Ace Hardware Foundation. "His bravery, strength, and commitment to face the challenges of learning to walk again makes him a fantastic choice for the 2019 Ace All-Star. Desmond, along with his family, will share his story to raise awareness for CMN hospitals and generate essential funding to ensure other children can receive the same life-altering treatments."
Desmond was selected by the Ace Hardware Foundation following a nationwide campaign that gave every Children's Miracle Network Hospital an opportunity to nominate a deserving patient. As the seventh annual All-Star for the Ace Cares for Kids Program, a $10,000 donation from Duracell will be made to Beaumont Children's in Desmond's honor. In addition, his family will be treated to an all-expense paid trip to attend the CMN Hospitals' annual conference in Walt Disney World. Throughout the year, Desmond will make special appearances and will be treated to exciting surprises from Ace Hardware.