Aiden's parents found out that their son would be a patient at their local Children's Miracle Network hospital before he was even born. When he was still in his mother's womb, an ultrasound revealed a heart defect called tricuspid atresia. In tricuspid atresia, the tricuspid valve, which is normally located between the right atrium and right ventricle, is abnormal and does not open. This results in a small or missing ventricle that can't adequately pump blood to the lungs.
Doctors told Aiden's family that he would require at least three surgeries to fix his tiny heart. The first surgery came when Aiden was six months old, the second when he was two and the third when he was three and given a pacemaker. In March 2013, Aiden was back at his local CMN hospital, Phoenix Children's Hospital, for a fourth surgery to replace the battery in his pacemaker.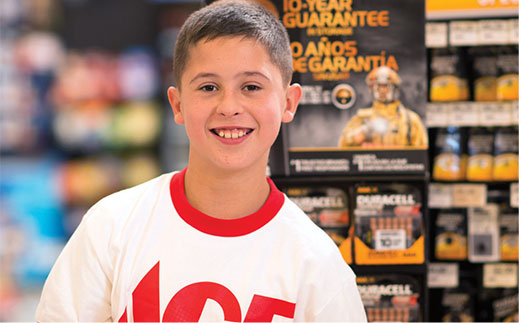 Aiden was too young to remember, but his mom remembers everything about their stay at Phoenix Children's. She remembers how much Aiden loved watching the trains in the intensive care unit; he would watch the trains for hours. She also remembers, for his third surgery, Aiden driving himself back to the operating room in a little yellow car. He waved as he drove away and yelled, "Bye, mommy." He was so comfortable and not nervous at all – all thanks to the outstanding patient care staff at the hospital. "The communication between nurses, doctors and patients was outstanding. Aiden has a great team of doctors who not only follow him medically but also follow his life in general. We would not be here today without them," notes Aiden's Mom, Jennifer.
Today, Aiden is an energetic 10-year-old who loves watching and playing sports. And while he has some limitations, he doesn't let that stop him. "Many times I look at him with amazement because he will never know what he went through, but I do and I am so proud," says Jennifer. Aiden is known around Phoenix Children's Hospital for his smile and signature "thumbs up." He loves to share his journey and will be the first to tell you that while sometimes having a pacemaker is hard, he feels blessed to be alive. He now counts being the 2014 National Ace All-Star as one of the greatest blessings in his life and is eager to help stores across the country to raise funds for CMN Hospitals to help kids just like him.
The Ace Foundation made a $10,000 donation to Phoenix Children's Hospital in Aiden's name when he was crowned the 2014 Ace All-Star. It left Aiden speechless. After he "signed" the check and reflected on this national honor that was announced at a surprise assembly in front of his school, he said, "This is amazing. I want to relive this moment over and over again. I am so blessed."