Enhancing the Ace Helpful spirit through philanthropy
The Ace Hardware Foundation is a 501(c)3 organization that exists to enhance Ace Hardware's vision of being the "Helpful Place" in local communities through philanthropy. The Foundation provides support and opportunities for the Ace community to give back locally primarily through efforts for Children's Miracle Network Hospitals and American Red Cross Disaster Relief. In addition, the Foundation oversees the Ace Helpful Fund, an employee emergency assistance fund available to qualified Ace team members who are facing financial hardship.

Our Causes
Children's Miracle Network
Children's Miracle Network Hospitals raise funds and awareness for 170 member hospitals that provide 32 million treatments each year to kids across the U.S. and Canada. Donations stay local to fund critical treatments and healthcare services, and support research and training, all to save and improve the lives of as many children as possible.
Ace Helpful Fund
We exist to help others…and that includes helping our own people, when they need it most. The Ace Helpful Fund provides short-term, emergency support to qualified Ace corporate, RSC, field and store team members experiencing financial hardship as a result of unforeseen circumstance including natural disaster, death, serious illness or injury and catastrophe.
Ace team members, friends and family can support these efforts by contributing to the fund. Visit the Ace Helpful Fund website for more information, to apply for assistance or to make a tax-deductible donation.
American Red Cross
Ace Hardware is proud to partner with the American Red Cross during disaster relief efforts. Donate here.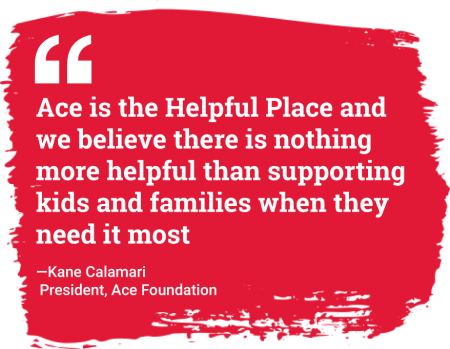 Our Community
Customers & Retailers
Ace stores support their local CMN Hospitals in a variety of ways including our Miracle Bucket promotion, change round up at the register, in-store fundraising events and more. And just like Ace, CMN Hospitals are local — which means the money raised at your neighborhood Ace goes to your local CMN Hospital.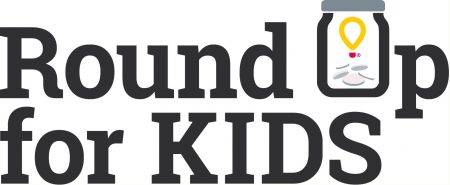 A little change adds up in a big way! In 2020, over $7 million was raised by our customers rounding up their totals.
Vendor Partners
Our vendors partner with us in support of CMN Hospitals through our Hawaii Shootout, Vendor Golf Outing, Ace presents the Kerry Wood Celebrity Golf Invitational and various programs throughout the year. Shopping at Ace means knowing that our brands are also doing their part to support children treated at CMN Hospitals.
Corporate Employees
Ace employees generously support our causes through the Payroll Deduction program and special events. In 2019, Ace corporate employees at our Oak Brook headquarters, in the field and at our 15 Retail Support Centers raised over $1 million to support the important work of their local CMN Hospitals.